AffiliateWP Recurring Referrals allows you to record affiliate commissions anytime a subscription payment is made on a membership that was referred by an affiliate. Instead of just awarding affiliates a commission on the initial signup, you can award them for every payment the members make over the lifetime of their subscription.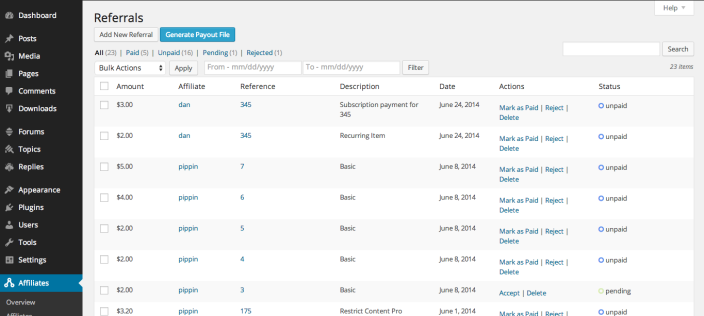 At this time Recurring Referrals supports the following integrations:
Once installed, you will have a new Recurring Referrals tab added to the AffiliateWP settings screen: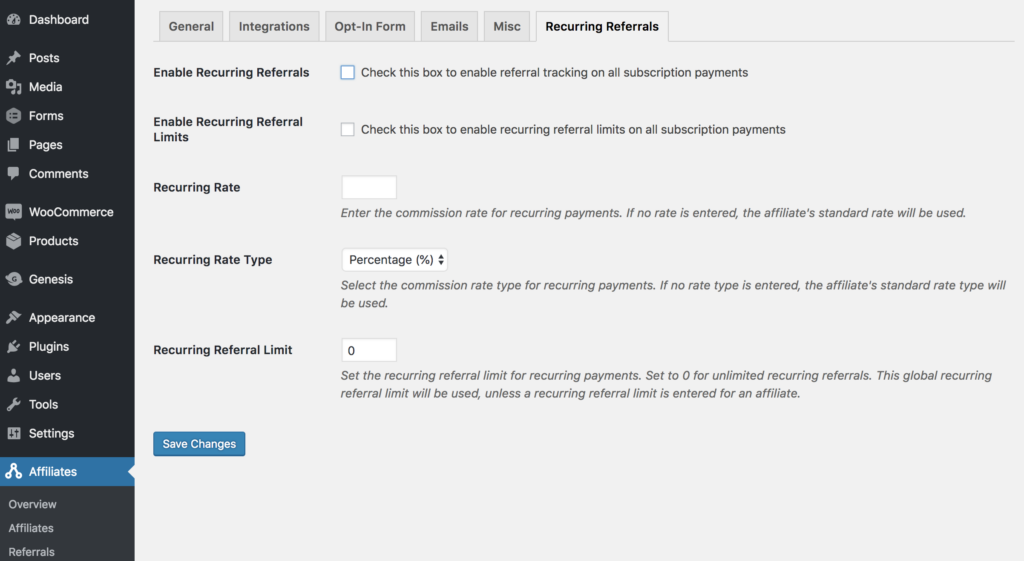 To enable recurring referral tracking for the supported platforms, simply check the box to Enable Recurring Referrals and set a Recurring Rate and a Recurring Rate Type if desired, otherwise it will use the applicable affiliate's referral rate and percentage. Once enabled, referrals will be automatically recorded anytime a renewal payment is made for a subscription that was referred by an active affiliate.
Other options you can set are to Enable Recurring Referral Limits and set a numeric value to limit recurring referrals created for the recurring payments. And finally, if you use our pro add-on Tiered Affiliate Rates, you will see an additional checkbox to Enable Tiered Rates to be used for recurring payments.


You must log in and be a buyer of this download to submit a review.
شكرا على هذا البرنامج الرائع لقد ساعدني كثيراً
مريح وسهل ويسجل العمولة بطريقة مذهلة من قبل الشركة التابعة ...رائع
Is the product original?
Yes of course, because we buy products from the original author and resell them.
How The Prices Are So Low?
All WordPress items such as plugins and themes are licensed under the General Public Licence (GPL). This means that once we have purchased the item we are free to redistribute it if we choose to do.
Why Are These Plugins/Themes Asking Me For A License Key?
Ignore it. Developers include these so that the plugin or theme can update automatically or so that you can register for support. The item itself will work perfectly fine without anything being entered in the box. We would recommend updating your theme/plugins manually when updates become available on our site.
Can I order a newer version of a specific product?
Yes, You can open ticket, and we will update asap in business day. ( Normally less than 24 hours, except holidays period )
Do Provide Support?
We provide basic support for installing plugins and themes.