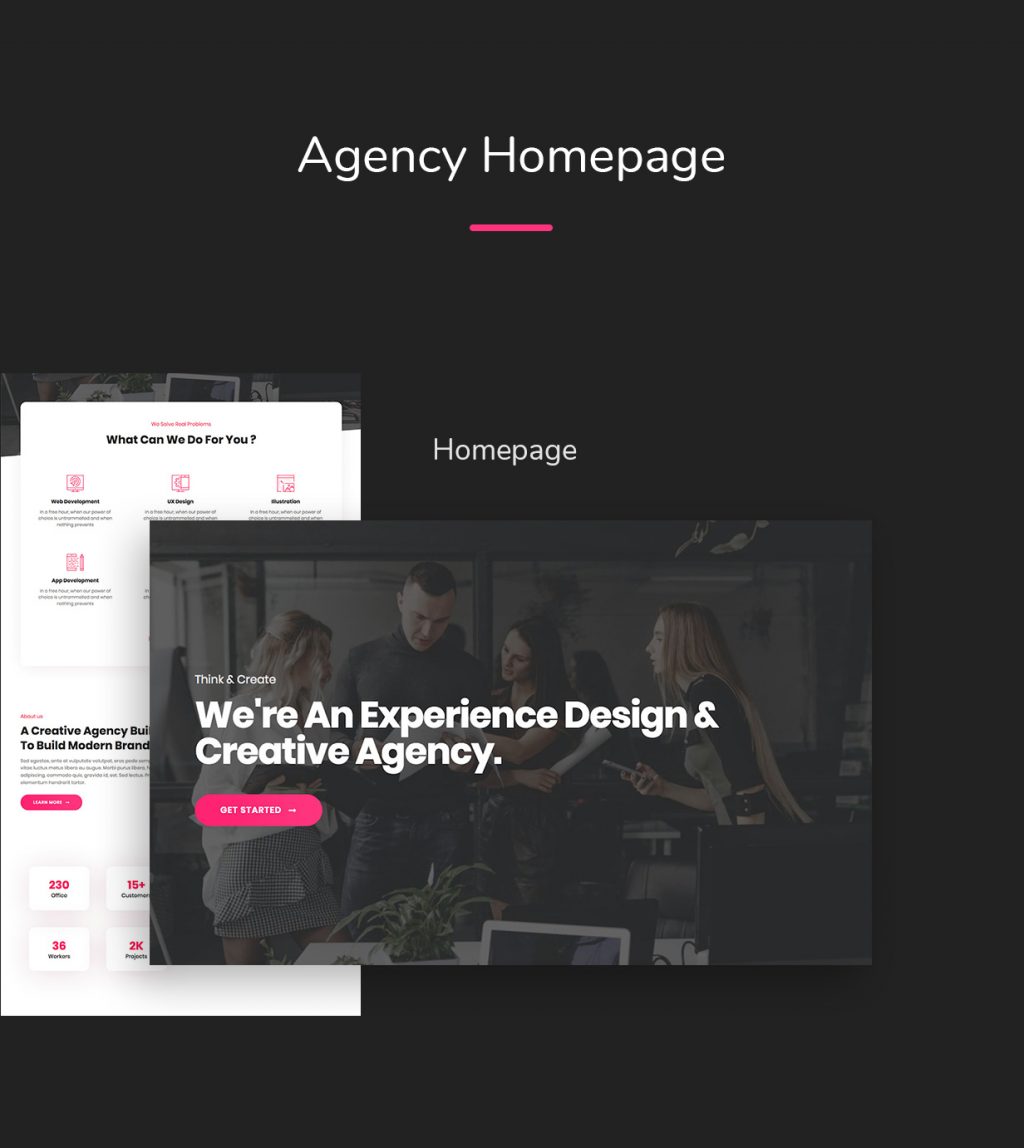 Agenture is a modern and clean Elementor Template Kit that is perfect for those who want to create a professional-looking WordPress-based website for a Creative Digital Agency, Digital Marketing Agency, Web & Mobile Development, SEO Agency, Online Portfolio, and any kind of Digital Agency. This template has a professional design with a 100% responsive layout, is retina-ready, and is very easy to customize because using Elementor so you don't need a single line of coding!
This template kit includes stunning carefully crafted 10 stunning templates, you can build your professional-looking company business website just a click away.
All Features
Styles and effects are created within Elementor panel, using no coding at all
100% compatibility with the free version of Elementor
Save money! This kit uses Free Google Fonts and doesn't require Elementor Pro
10 Customizable Page Layouts
More than 20 well-designed Sections Templates
Sleek and minimalist Style
Stylish colors and hues
Responsive and excellent for Desktop, Laptop, and Mobile
Design of All main WordPress Widgets
Pixel Seamless Design
Easy to Use and Modify
Fully Fluid Responsive
Fully Editable Symbols
Responsive and professional support by dedicated team
Main Features
Agenture offers multiple pages with a specific design for each function. The design is neat, fuss-free, and featuring multiple spaces on one page to better promote your business. The template kit consists of several main pages, which are:
Homepage
Services
About (the Company)
About Me
Clients
Projects
Project Details
Frequently Asked Questions
Pricing Lists
Contact
The dynamic design offers multiple functions on one page for your visitors' convenience. Combining images, icons, texts, dropdown menu, and CTA buttons, this template kit helps you to build a complete website even without experiences in coding or programming.
Benefits of Using Agenture
Owners of agency business can reap various benefits from using Agenture to build their websites. They include:
1. Better Promotional Tools
Agenture offers separate pages for Services, Projects, and Prices. Visitors can focus on specific information on each page, which reduces distraction. Moreover, multiple page elements allow the use of icons, high-definition project photos, and clean price list columns.
2. Simpler Navigation for Better Site Exploration
Agenture is a perfect template kit for a WordPress website. Each page has a clear navigation system and menu, perfect for guiding even first-time visitors. CTA links, icons, and buttons are available with bold typeface and clear borderlines.
3. Perfect Tool to Promote Clients
Have notable clients you want to feature? The Client page offers a great design for such a goal. It consists of multiple columns and boxes that contain the clients' business names or logos. The minimalist design around the client list directs the visitors' attention toward the names.
Make your agency business look more professional with a well-constructed official website. Install Agenture agency Elementor template kit to easily build a high-quality business website.
NOTES
This is not wordpress theme, it is Elementor template kits.
What is the Elementor Template Kits? The Elementor Template Kits is a library which contains over 10 pre-designed page templates, as well as templates that were saved by the user. The Library allows you to quickly create designed pages and customize them to be your own, saving you from building all pages from scratch.
MORE ELEMENTOR PRO TEMPLATES IS ON PROGRESS…
How to use this Template Kit
We have a great time designing these layouts for Elementor, and hopefully you like them.
for more information please read the official documentation from envato: https://help.market.envato.com/hc/en-us/articles/360038112932-How-to-use-the-Template-Kit-Import-plugin-from-Envato
This Template Kit uses demo images from Envato Elements. You will need to license these images from Envato Elements to use them on your website, or you can substitute them with your own.